Vacation Rental & Direct Booking Website Builders 
Using builders to create professional vacation rental and direct booking websites
Whilst major listing sites and OTAs like Airbnb, Booking.com, HomeAway and TripAdvisor can generate significant exposure and bookings, it's imperative for any serious rental property manager to build their own website to drive more direct bookings.
As booking commissions can be anything up to 18% (with travellers in many cases also being charged fees), hosts are increasingly looking at ways to pointing guests to their own website to book direct without charge.
When considering any website CMS (content management system), a property owner or manager will need to initially consider their time resources, technical knowledge, budget and future goals.
A platform like WordPress is an excellent resource and is used by millions of businesses around the world. However it may not appeal to those with restricted time and technical know-how.
Enter the simple builder.
What is a Vacation Rental Website Builder?
A vacation rental website builder is a simplified tool designed specifically for property managers, lacking in time and technical resources, to create a website for their vacation rental business. As opposed to other platforms like WordPress, Joomla and Drupal, these builders come with pre-loaded templates making the process a simple, quick and painless experience.
Some of the best website builders for direct bookings
Alongside the enormous growth in the vacation rentals industry over the last 5 years, there are now numerous companies helping time-restricted owners and managers with excellent and inexpensive templated options.
Here are a few easy-to-use website builders where you can be up-and-running in just a couple of hours with a fantastic new direct booking site.
| | | | | | |
| --- | --- | --- | --- | --- | --- |
| | | | | | |
| Free Trial | Yes (14 Days) | Yes (14 Days) | Yes (30 Days) | Yes (7 Days) | |
| Pricing | From $27 p/m | From £69 p/y | From $20 p/m | From $79 set up | From $4.50 p/m |
| Reservation Manager | Yes | Yes | Yes | Yes | No |
| Accept Online Bookings | Yes | Yes | No | Yes | No |
| Channel Manager | Yes | No (iCal Sync available) | No | No | No |
| Promotion | | £10 off (promo code nmr10) | 15% off for life | | |
| | MORE INFO | MORE INFO | MORE INFO | MORE INFO | MORE INFO |
Lodgify Website Builder
Lodgify provides everything you need to create a vacation rental website and manage all your bookings in one place.
Based in Barcelona, Lodgify have grown enormously over the last few years servicing vacation rental owners from all over the world.
All customisable website templates are mobile-friendly and no coding or design skill is required.
No set contracts - monthly, yearly or bi-yearly durations. 20% discount on annual plan and 25% discount on biennial plans if paid upfront.
Custom plans for large property inventory.
Manage all reservations from one place where you can generate quotes, use autoresponders and automate credit card payment collection.
Synchronise your calendar, rates and reservations across numerous sites with the Lodgify Channel Manager.
Inclusions:
• Numerous themes • Use your domain name • Book Now button •  Take credit or debit card payments • Multiple languages • SSL Certificate • Supports room types • Search engine optimisation • Unlimited hosting • No software or hardware required • 24/7 monitoring • Daily backups • Channel manager • Dynamic pricing • Online Support • Knowledge Base
Promote My Place Website Builder
Promote My Place is a very cost-effective way to get a quick professional website published for your holiday rental property.
Operating out of the UK since 2010, Promote My Place has the aim 'of providing easy-to-use website-building templates and tools that enable absolutely anyone, with no technical expertise, to produce their own professional quality website.'
We have added our own fully integrated Reservation Management system with Online Booking. We also allow for synchronisation of availability calendars using ICAL import/export.
Inclusions:
• Website Hosting • Easy editor tool • Mobile-friendly display functionality • Choice of stylish, themed templates • Synchronisation of availability calendars using ICAL import/export • Multiple languages • Currency converter • Enquiry form • Guest Book (reviews) • Photo gallery • Video embeds • Google location map • Use your domain name • Google Analytics Integration • Search engine optimisation • Social media integration • SMS alerts • Online support
Additional Services (Paid):
• Additional websites • Website creation • Website review • Copywriting • SEO keyword analysis • SEO reviews
DISCOUNT PROMO:
Get £10 off your first year by using promo code NMR10 or by using the links here (discount will automatically be applied after your free trial).
iPro Website Builder
iPro provides you with everything you need to build a powerful and responsive website that is designed specifically for the holiday lets and short stay industry.
Our websites provide you with everything you require to get up and running and as efficiently as possible, our designs work perfectly on desktop, mobile and tablet.
Website Project Plan
Brand the website
Create beautiful landing pages with ease
Powerful and flexible search facility
Stylish calendars
Seamless Checkout with Book Direct functionality (integrated payment providers)
Guest Portal
Owner Portal
Boostly Website Builder
Double your direct bookings with your own WordPress website.
A website is your most important business. Make sure it is working for you, not against you.
Make the most of commission-free bookings with a professionally designed website optimised for converting lookers into bookers.
Get your website up and running in no time!
Professionally designed pages
Easy to add your own content
Mobile-first design approach
Help and support along the way
World-class managed hosting
Use your own domain name and email
Free Trial: 100% free for 30 days. No credit cards, no setup fees and no obligation.
Pricing: $30 per month / $300 per year.
Multiple Properties: Discounts are available for multiple properties.
Free Domain: Annual subscribers get a free domain name included
Travito Website Builder
Travito is an easy-to-use page builder designed exclusively for vacation rentals. Simply add your content and press save. Building your website couldn't be any quicker or easier.
Pre-Made Templated Themes
Pick from a range of ready to use themes, and then easily change the colours and images, giving you a unique design. You are able to customise the colours and images of all any template you pick. You can also pick and choose different page styles for your content. No two websites look the same.
SSL Security
All sites get an SSL certificate and we ensure all pages are only ever loaded over SSL.
Mobile Responsive
All sites are fully responsive. Travito employs a key focus upon optimising sites to be as performant as possible.
Support & Advice
Free support is provided to all customers, including a free import of website content for anyone migrating to Travito from elsewhere. We also provide all customers with free advice on best practices and suggestions on how to improve their site.
Multiple Properties
Sites for multiple properties are available. Prices depend upon requirements.
Admin Panel
Inside your Travito administration panel you can manage your 5 key areas; Property Details, Location & Attractions, Amenities & Features, Property Photos and Rental Pricing.
One of the highlights of our website builder is our content generator. When you enter your property details, we automatically create certain pages on your website. These contain the important details your customers will be looking for, such as the amenities, number of bedrooms, photos of the property, the local attractions and more.
The easy to use menu editor allows you to change the links to your pages, change dropdown menus and add as many pages as you want!
Booking Manager
Our intuitive booking manager provides you with all the tools and information you'll need to manage your vacation rental. A beautiful calendar view, with quick access to the important details about your bookings.
Inside your Travito property management control panel you'll find the booking calendar, showing all the booked dates along with details on your customer. When you drill down into the booking details screen, you'll find information about the booking such as any notes, the dates, price and more. Track pending bookings. Set up different rental price bands.
Enquiry Manager
Enquiries are stored in your Enquiry Manager where you can review, update and convert a booking status.
Photo Manager
We provide each Travito website with 1GB of space for photos, that's around 500 high quality photos!
SEO
Travito automatically optimizes your pages for search engines. This helps your site to appear higher in the search results than competitors and increase the number of visitors and bookings.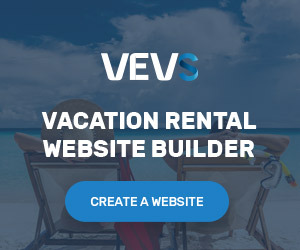 Free Trial: 7-day free trial.
Pricing: Free up to 5 properties ($79 set up). $40 per month (up to 15 properties). $83 per month (up to 250 properties)
VEVS Website Builder
Manage your properties and bookings more efficiently and boost sales with this great all-in-one business solution from VEVS.
Choose from our themed templates, switch colour schemes or even ask for additional fine-tunings to fit your brand. Experiment with the predefined colour themes in each design. Managing your content is easy, without any need for external help.
All websites created by VEVS are mobile responsive and developed in line with the latest technology trends. All are optimized for search engines. Travellers can quickly and easily find the right vacation property by filtering results by location, type, date range, number of beds, bathrooms, etc. All of your vacation property locations will be pinned on a Google Map embedded into your site.
There are no fees for any booking taken through your website. Your business is your business. We focus on ours!
Our vacation rental websites come with all essential functionalities to manage one or several holiday rental properties and associated bookings from one single platform.
Set prices, configure booking and payment options for each property, enable/disable payments, define currency, payment methods, deposits and taxes. Process various online and offline payments, create detailed property listings, add stunning image galleries, specify property types and extra services and enable various languages.
Even make some extra money by allowing other property owners to list their classified ads on your vacation rental website.
Furthermore, if you have an existing outdated website, we can help you switch over to VEVS smoothly and effortlessly. We will export your listings, customer database, bookings archive (if applicable) and import them into your new vacation rental website safely and securely.
Wix Website Builder
Wix provides website building platforms to over 110 million users in 190 countries.
We provide all the tools and features you need to build an amazing online presence for your vacation rental business. Get online today. We guarantee that your experience is simple, fun and code-free. A free holiday let website template is available with restrictions.
Wix has the only drag-and-drop website building platform with HTML5 capabilities. Top grade hosting, innovative apps and thousands of features for free.
Premium (paid) plans include use of your domain, 50GB storage, removal of ads, analytics, premium support and an online store.
Hundreds of designer-made HTML website templates to choose from! 
Create a stunning accommodation website, tailored for Vacation Rentals now.
Why build your own vacation rental website?
The most typical advantages of using templated builder sites for your vacation rental business:
Encourage direct booking and reduce listing site booking commissions
Platforms are generally very easy to learn
Simple editing suites with drag and drop features
Pages are quick to publish
Facilitate using your own domain name
Hosting included
SSL certificate included
24/7 Support
Mobile responsive
Relatively inexpensive
Selection of several stylish and professional templated designs
Management single or multiple properties
Availability calendars
Enquiry forms
Photo galleries with unlimited photos
Location maps
SMS enquiry alerts
Amendable colour schemes
Customisable widgets available
Social media integration
In-built SEO tools
Multiple languages
Fast loading
Additional software services like channel managers, reservation management, book now buttons and much more.
---
Other Builders
Other vacation rental site building providers include Discoveroom, FutureStay, Goliday, iRoomi, Maxxton, MyVR, OneRoofTop, ResNexus, Vabooki, VacationLabs and VacationRentalDesk.